February 2023
Jake Slaton
Coordinator of Sports Science, Coach
For anyone that has participated in any Power & Grace Performance continuing education pieces or listened to Spencer speak on his approach to coaching and implementing training plans, it is easy to identify the emphasis we put into being able to provide evidence and reasoning behind coaching decisions. Building on this foundation, the latter half of 2022, Power & Grace HQ began implementing protocols to test athlete performance. This has led to the development of standalone sport science initiatives and roles within our organization. The goal of sport science at Power & Grace is to limit uncertainty around decision making for the coaches, with the goal of optimizing training and coaching for our athletes.

Why sport science?
Sport science is the application of the scientific method to sport in search of truth and clarity regarding human performance and sporting competition. "… [a sport scientist's] primary responsibility is to be a constant source of objectivity in a world that heavily depends on the subjectivity of discipline experts" [1]. A key component of sport science is the practice of athlete monitoring which serves to assess an athlete's physical state and how it may change over time (Suarez et al. (2020) [2] provides a comprehensive and practical review for athlete monitoring in barbell sports). Briefly, at Power and Grace, our application of athlete monitoring aims to achieve three objectives: benchmarking, program efficacy, and fatigue management [3,4].
Benchmarking is used to assess an athlete's performance longitudinally or instantaneously, and how their performance compares to a standard such as a baseline measurement or normative value (e.g., mean vertical jump height amongst a cohort/team) [3]. This may allow coaches/practitioners to best initiate program efficacy and fatigue management objectives for their athletes.
Program efficacy is whether the training plan is eliciting the adaptations it was designed to achieve.
Fatigue management is the monitoring of the athlete's level of fatigue to assess and identify excessive accumulative fatigue that would be detrimental to the training process. It is foundational knowledge to most coaches that for an athlete to adapt, a proper stimulus must be applied to stress the athlete physiologically and this stress thereafter induces a specific level of fatigue; this will result in periodic decrements in performance albeit in a controlled and (ideally) appropriately timed manner [5].
How has sport science been used at Power & Grace thus far: A case example
During the fall of 2022 we began using Vald ForceDecks dual force plates with a few athletes periodically. The initial goal to set up data managements systems/protocols and begin developing athlete buy-in. Below is a real-world example of some initial insights we were able to make with one of our athletes, whom we will refer to as "Jane Doe".
As we began putting together instrumentation and data management protocols, vertical jump testing was performed the last day of each mesocycle (approx. every 3-5 weeks). About halfway through Jane Doe's 18-week training cycle for the, the concentric impulse from her countermovement jump (CMJ) (Figure 1., Week 8) was noticeably elevated. Briefly, impulse is the amount of force produced over time to change the momentum of an object and is prevalent to weightlifting; a weightlifter must apply an impulse to project the barbell into the air. For instance, longitudinal monitoring of collegiate weightlifters elucidated that CMJ net impulse may be a strong predictor of Sinclair weightlifting total [6]. Specifically, the current impulse measurement, concentric impulse at 100ms, is the impulse generated within the first 100ms of the CMJ propulsive phase (when the jumper begins driving out of maximal depth of countermovement). Peak force and rate of force development (RFD) have exhibited strong relationships with weightlifting performance [7,8], indicating that it is important to apply a high magnitude of force as rapidly as possible, hence, the potential interest in the 100ms timepoint for CMJ concentric impulse.
This was the first force plate test session that coincided within a week that prescribed a snatch > 90%; essentially, a week where Spencer would want Jane Doe to be physically primed to perform well in training. Week 8, Jane Doe snatched 101% from the knee, a successful heavy snatch session. The CMJ performance that coincided with Week 8 supported the likelihood that Jane Doe was, in fact, at a heightened physical state. We did not possess enough data to confidently conclude, or analyze, the relationship between her CMJ testing and her training session performance. However, the objectivity provided from the force plates supported a training manipulation that Spencer had suspected to be unique to Jane Doe. Interestingly, Jane Doe performed her best in the snatch when squat volume load (reps x load) was kept high 48-72 hours prior to a heavy snatch day (Table 1.), specifically when the squat volume load was facilitated through squats at a higher intensity (Figure 2.).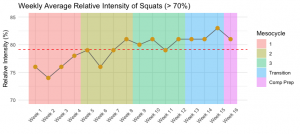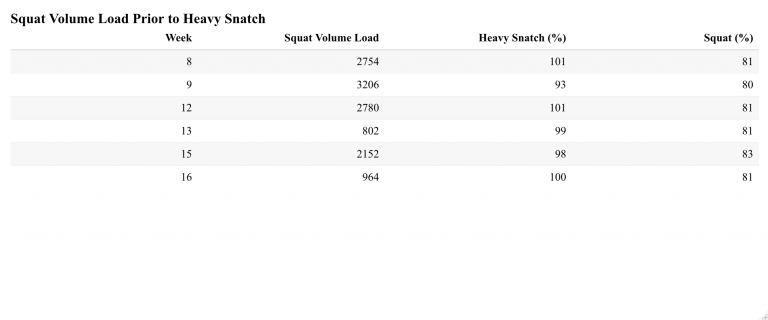 Following Week 8, we tested Jane Doe's CMJ as oftenas possible. As illustrated in Figure 1, during the lead up to competition, Jane Doe's jump performance remained elevated compared to before Week 8 testing. Although in the current example we lack the data to draw confident conclusions or use statistically powerful analyses, there is a possibility that the training manipulations Spencer makes to Jane Doe's squatting load throughout the macrocycle results in desirable adaptations at the correct times, thereby keeping jump performance elevated. The current example is a perfect illustration of how we plan to utilize sport science at Power & Grace: athlete data communicated to relevant stakeholders (e.g., the athlete's coach) to assist in the uncertainty around decision making regarding the athlete; for instance, the jump testing supported already held subjective beliefs, thereby aiding Spencer in making decisions regarding Jane Doe's training (i.e., program efficacy). Supporting strong subjective coaching knowledge with objective instrumentation may provide Jane Doe with the best possible opportunity to perform at her highest level in competition where the smallest margins in performance may be the difference in placings.
Moving Power & Grace Sport Science forward
While not providing conclusive answers or providing any take home findings, the aim of this example was to introduce how sport science will be used within Power & Grace Performance. Moving forward, the primary goal is to test our HQ athlete weekly on the force plates (systems are being put in place to support this undertaking). Regularly conducted testing over time will result in larger datasets, presenting the opportunity to analyze and interpret performance data with greater confidence and hopefully draw conclusions with a higher level of certainty. For example, doing so could allow us to better interpret Jane Doe's testing and lifting performance from the presented scenario. Additionally, we plan to continually disseminate Power & Grace Sport Science initiatives and results that will hopefully be of practical use to others within the weightlifting community.
References
1. Winkleman, N.; Norman, D. Performance Dimensions. In NSCA's Essentials of Sport Science; Human Kinetics, 2021.
2. Suarez, D.G.; Harden, N.G.; Perkins, A.; D'Amato, J.S.; Almugathawi, I.F.; Stone, M.H. Athlete Monitoring for Barbell Strength Sports: A Review with Practical Recommendations for Implementation. Prof. Strength Cond. 2020, 23–35.
3. McGuigan, M. Profiling and Benchmarking. In NSCA's Essentials of Sport Science; Human Kinetics, 2021.
4. Suchomel, T.J.; Nimphius, S.; Bellon, C.R.; Hornsby, W.G.; Stone, M.H. Training for Muscular Strength: Methods for Monitoring and Adjusting Training Intensity. Sports Med. 2021, 51, 2051–2066, doi:10.1007/s40279-021-01488-9.
5. Cunanan, A.J.; DeWeese, B.H.; Wagle, J.P.; Carroll, K.M.; Sausaman, R.; Hornsby, W.G.; Haff, G.G.; Triplett, N.T.; Pierce, K.C.; Stone, M.H. The General Adaptation Syndrome: A Foundation for the Concept of Periodization. Sports Med. 2018, 48, 787–797, doi:10.1007/s40279-017-0855-3.
6. Suarez, D.G. An Investigation into the Use of Biomechanical and Performance Data from Vertical Jump Testing to Monitor Competitive Weightlifters, East Tennessee State University, 2022.
7. Haff, G.G.; Carlock, J.M.; Hartman, M.J.; Kilgore, J.L.; Kawamori, N.; Jackson, J.R.; Morris, R.T.; Sands, W.A.; Stone, M.H. Force-Time Curve Characteristics of Dynamic and Isometric Muscle Actions of Elite Women Olympic Weightlifters. J. Strength Cond. Res. 2005, 19, 741–748.
8. Beckham, G.K.; Mizuguchi, S.; Carter, C.; Sato, K.; Ramsey, M.; Lamont, H.; Hornsby, G.; Haff, G.; Stone, M. Relationships of Isometric Mid-Thigh Pull Variables to Weightlifting Performance. J. Sports Med. Phys. Fitness 2013, 53, 10.