In every good sports movie there's a moment where the team or the coach or a specific player begins to make the transition that we all look back on and see as the pivotal moment for the success of the team. In Remember The Titans it was the teams trip to Gettysburg battlefield. The "You were Born for This" speech in the movie Miracle. There's one of these moments in every good sports story.
For the first weeks of the month I got to be a part of one of those moments for USA Weightlifting. To be fair, this is just one puzzle piece that has been a part of the transition from USA's relative nonexistence in the weightlifting world to its current rise to the podium. For the first time in a long time we put athletes on the podium at the world championships in Anaheim and Sarah took home gold! Two weeks ago our Junior Weightlifting Team continued that success. These young athletes made history winning 18 total medals in the winningest Junior World Championships in history. With the help of gold medalist CJ Cummings, the men's team took fourth overall.
On the female side, there were more medals than I care to count lead off by Power & Grace Performance's own Jordan Delacruz. The girls would go on to WIN the world championship as a team! For the first time ever, A United States Weightlifting team is the strongest team in the world. This past championship is one of those marks of transition. Mike Gattone I think said it best as we closed up the week. He told the team that he was super proud of them but he wanted this feeling, this competitiveness, these results to become expected. If our country is going to be a dominant force in weightlifting that it has the capacity to be, medals can't be results we hope for but results that are expected.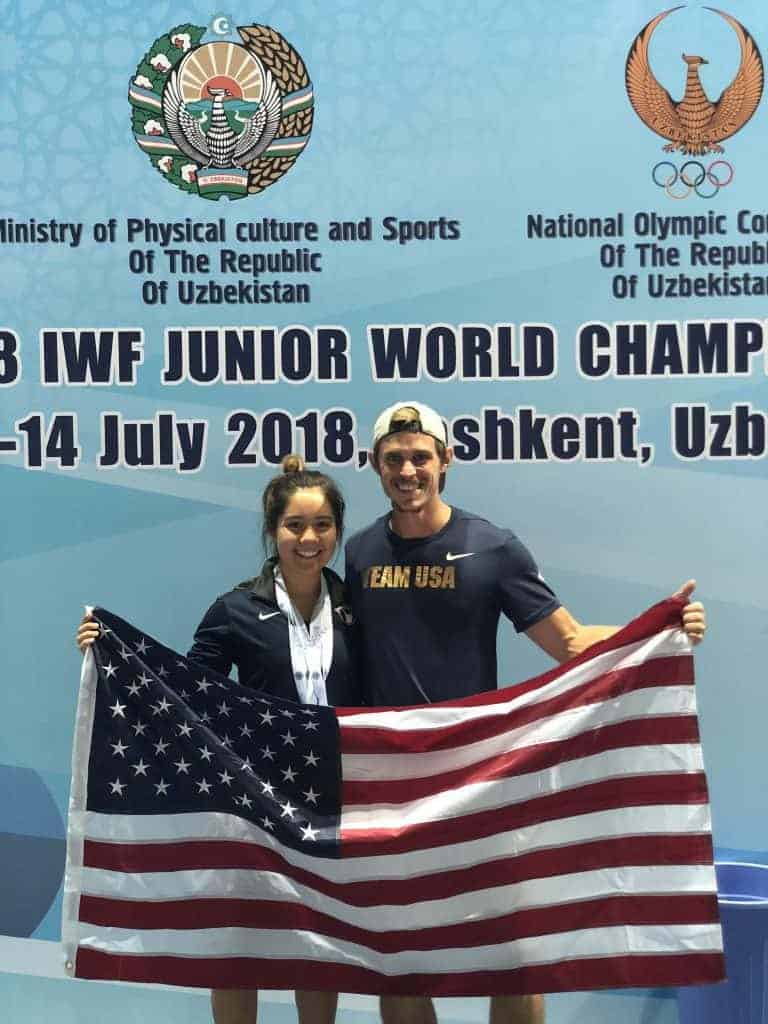 There were a multitude of big moments during the competition that stand out in my mind as reasons to celebrate. USA truly competed for the first time in a long time on an international stage. When I say "competed" I mean they didn't resign themselves to bronze or shrug their shoulders at a new satisfactory total. The aim was always the podium and was always the top. When I say "competed" I mean Team USA walked into every competition with the intention of winning not just totaling. They competed for the top spot every single session in every single weight class. I saw this in Jourdan taking an attempt at the winning snatch. I saw this in
Harrison fighting back from a relatively poor performance in snatch to take the winning clean and jerk gold medal. I saw this in Jules stepping up to the plate and smoking her final snatch for a gold medal. I could go on and on about lifts and gutsy calls and big moments where our Junior weightlifters decided they were not just going to be resigned to average. They weren't happy with just being there. They wanted to win. This kind of mental shift is a transition our sport needs if they're going to be perennially competitive on the international stage.
I challenge some of the Senior lifters out there competing for spots on World teams to take a look at some of the tenacity and grit that these Junior lifters approached the stage with. We are good enough to do more than just show up. Our country is better then many of the people we find ourselves second place to.
More on this to come but for the time being I'm both very proud of our up-and-coming weightlifters (especially Jourdan) but I'm even more challenged that these couple moments are not be exceptions to the rule but that they become the standard for USA weightlifting.